Sausage and Black Bean Soup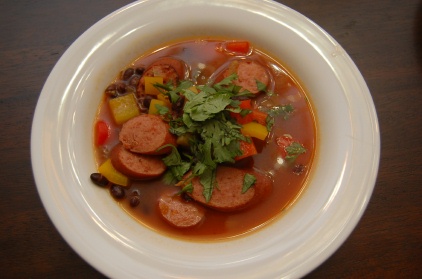 Ingredients:
Cooking Spray
6 oz turkey kielbasa sausage, sliced
1 cup diced green, sweet red, or yellow pepper
1 (14.5oz) can fat-free, reduced-sodium chicken broth
1 (15oz) can no-salt-added black beans, rinsed and drained
1/4 cup picante sauce or salsa
Chopped cilantro (optional)
Directions:
Coat a medium saucepan with cooking spray; place over medium-high heat until hot. Add sausage, and saute 1 minute or until sausage begins to brown. Add pepper; saute 1 minute.

Add broth; bring to a boil. Reduce heat to low; add beans and picante sauce, and simmer, covered, 5 minutes. Top with cilantro, if desired.

Servings: 4 (1 cup) servings
Time to Prepare: 16 minutes
Nutritional Information: Calories 172 (23% from fat); Fat 4.4g (sat 2g); Protein 12.2g; Carbohydrate 20.5g; Fiber 3.1g; Cholesterol 23mg; Sodium 718mg; Diabetic Exchanges: 1 Starch, 1 Vegetable, 1 Medium-Fat Meat

Submitted By: Kyle
Original Source: Cooking Light 5-Ingredient 15-Minute Cookbook

Comments:
I serve with Speedy Quesadillas. I also usually add a little hot sauce to the soup to give it a little more punch.