Southwestern Stew (aka Amy Soup)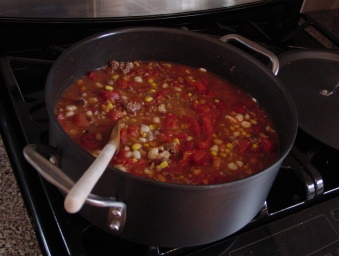 Ingredients:
2 lbs ground beef, or 1 beef and 1 turkey
1 can kernel corn
1 can kidney beans
1 can black eyed peas
1 can white hominy
1 can diced green chilies
2 cans Rotel tomatoes, original style
2 cans stewed tomatoes
1 packet Ortega taco seasoning
1 packet Hidden Valley Ranch dry mix
1 1/2 cups water
Directions:
In a HUGE stockpot, brown meat. Drain and return to pot.

Open all canned ingredients, DO NOT DRAIN, and add contents to pot, along with seasoning packets and water.

Cover and simmer for 45 minutes.

Servings: 8-12
Time to Prepare: 10 minutes prep; 1 hr start to finish


Submitted By: Cristin


Comments:
This gets better with reheating and freezes beautifully--a great dish to make for eating half and freezing half. Hominy and black eyed peas should be in the vegetable or Mexican sections of your grocery store. A good choice for bringing to new mamas, and *far* more impressive than the minimal amount of effort implies!