Red Beans and Rice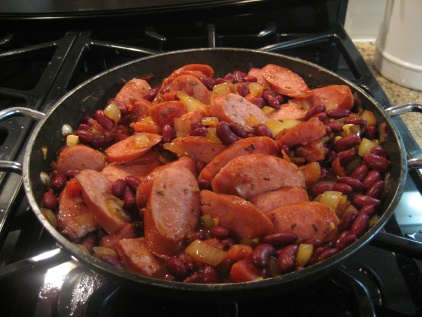 Ingredients:
1 lb. kielbasa, cut at an angle 1/2 inch thick
1 TB. vegetable or canola oil
1-2 tsp. diced garlic (to taste)
1 medium onion, chopped
1/8 tsp. cayenne pepper
14 oz. can of diced tomatoes with juice
1 tsp. oregano
1/2 tsp. thyme
1/4 Cup water
2 15 oz. cans red kidney beans, drained and rinsed
1 Cup uncooked white rice, prepared according to package directions
Directions:
In a nonstick skillet, cook the kielbasa over medium high heat until browned. Remove sausage from the pan and set aside. Heat the oil in the skillet. Add the garlic, onion, and cayenne pepper. Cook 4-5 minutes until the onion softens. Stir in the tomatoes, oregano, thyme, and water. Simmer 3-4 minutes. Add the kielbasa back to the pan. Add the kidney beans and cook until heated through, about 5 minutes. Serve over cooked rice, or mix rice into pan with meat and veg for a simple 1-dish meal.

Servings: 4-6
Time to Prepare: 30 min or less


Submitted By: Cristin
Original Source: Penzey's Spice catalog

Comments:
Turkey kielbasa is really good in this, and makes it a very healthy dish. You can make this hotter very easily, but this heat level is great for kids and people who can't tolerate spiciness. Reheats GREAT!

Additional Comments:
Anonymous - Definitely a keeper! My toddler gobbled this up! Also, I used Healthy Choice Turkey Kielbasa and it was WONDERFUL! Yum Yum Yum!