Strawberry Cream Cookies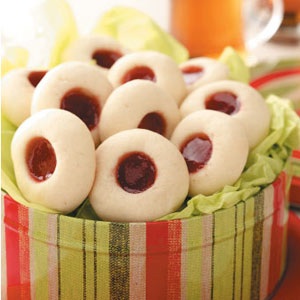 Ingredients:

1 cup butter, softened
1 package (3 ounces) cream cheese, softened
1 cup sugar
1 egg yolk
3 teaspoons vanilla extract
2-1/2 cups all-purpose flour
Seedless strawberry jam
Directions:
In a large mixing bowl, cream the butter, cream cheese and sugar until light and fluffy. Beat in egg yolk and vanilla. Add flour and mix well. Cover and refrigerate for 1 hour or until easy to handle.

Shape dough into 1-in. balls. Place 2 in. apart on ungreased baking sheets. Using the end of a wooden spoon handle, make a 1/2-in.-deep indentation in the center of each ball; fill with about 1/4 teaspoon jam. Bake at 350¡ for 10-12 minutes or until set. Remove to wire racks to cool.

Servings: Yield: 5 dozen
Time to Prepare: About an hour all told
Nutrition: One serving (2 each) -- Calories: 139, Fat: 7 g, Saturated Fat: 4 g, Cholesterol: 27 mg, Sodium: 71 mg, Carbohydrate: 17 g, Fiber: 0 g, Protein: 1 g

Submitted By: Betsy
Original Source: Taste of Home

Comments:
They're beautiful, delicious and fun to make. It's a perfect recipe. I used both strawberry and black raspberry jams when I made them and preferred the black raspberry. They're even prettier with the dark purple of the black raspberry.