Dill Bread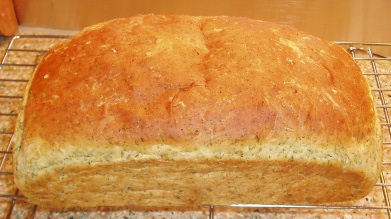 Ingredients:
1 c creamed cottage cheese (use your food processor)
2 T butter
2 T sugar
1 package dry yeast
1/4 c warm water
1 egg
2 1/4 c flour
1/4 t baking soda
1 t salt
1 T dried minced onion
2 T dill seed
2 T dill weed
1/4 c flour (optional)
Directions:
Heat cottage cheese to lukewarm and stir in butter and sugar. Dissolve yeast in warm water. Add dissolved yeast and egg to cottage cheese mixture.

Combine flour, soda, salt, ohion, dill seed and dill weed; add to cottage cheese and yeast mixture. Beat well, adding additional 1/4 cup of flour if necessary to make a soft dough.

Cover with a damp cloth and let rise about an hour. Stir dough (or lightly knead it) and place in a greased 1 1/2 qt casserole or 9x5 loaf pan. Let rise until double in bulk. Bake 40-50 minutes at 350*.

Time to Prepare: A couple of hours- it's bread!


Submitted By: Betsy
Original Source: Some Enchanted Eating

Comments:
This bread is really dilly and is nice and tender. It makes the house smell yummy.