Cinnamon Almond Ring Coffee Cake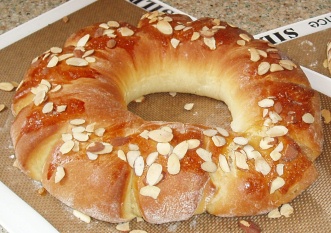 Ingredients:
Filling:
1 tube almond paste (7-ounce)
6 tablespoons confectioners' sugar
2 tablespoons dark brown sugar
1 1/2 teaspoons ground cinnamon
4 ounces cream cheese
Dough:
1 1/3 cups warm milk (110 degrees)
1/3 cup honey
8 tablespoons unsalted butter , melted
3 large egg yolks (reserve whites for topping)
2 teaspoons vanilla extract
4 1/2 cups all-purpose flour , plus extra for work surface
1 package rapid-rise yeast (or instant)
2 teaspoons salt
Topping:
3 large egg whites
1/2 cup sliced almonds
1 1/2 cups confectioners' sugar
2 ounces cream cheese
2 tablespoons milk
1/2 teaspoon vanilla extract
Directions:
For the filling: Fit standing mixer with paddle attachment and mix almond paste, confectioners' sugar, dark brown sugar, cinnamon and cream cheese until smooth. Cover with plastic and refrigerate until ready to use.

For the dough: Adjust oven rack to upper-middle and lower-middle positions and heat oven to 200 degrees. When oven reaches 200 degrees, shut oven off. Lightly grease large bowl with nonstick cooking spray. Line 2 baking sheets with parchment paper and grease with cooking spray.

Mix milk, honey, melted butter, yolks, and vanilla in large measuring cup. Mix flour, yeast, and salt in bowl of standing mixer fitted with dough hook. Turn mixer to low and slowly add milk mixture. After dough comes together, increase speed to medium and mix until shiny and smooth, 4 to 6 minutes. (Dough will be sticky.) Turn dough onto heavily floured work surface, shape into ball, and transfer to greased bowl. Cover bowl with plastic wrap and place in turned-off oven until dough is nearly doubled, about 20 minutes.

On lightly floured work surface, divide dough into 2 equal pieces. Working with one piece of dough at a time, roll dough into 18 by 9-inch rectangle with long side facing you. Spread with half of filling and roll up dough. Brush top edge with water, then press to seal and transfer, seam side down, to parchment-lined baking sheet. Repeat with remaining dough and filling. Shape each cylinder into ring. Using paring knife, make cuts around outside of dough and shape as shown in photos 3 and 4.

Cover with plastic wrap coated with cooking spray and return to oven until rings have puffed slightly, 30 to 40 minutes. Remove from oven and heat oven to 375 degrees.

For the topping: Whisk reserved egg whites in small bowl, then brush rings with egg whites. Sprinkle with almonds and bake until deep brown, about 25 minutes, switching and rotating pans halfway through baking. While rings are baking or cooling, whisk confectioners' sugar, cream cheese, milk, and vanilla in small bowl until smooth. Drizzle icing over baked coffee cakes and serve warm.

A Coffee Cake in the Freezer
Our recipe makes two coffee cakes, which can be baked together or separately, with the second ring frozen for later use. To freeze one coffee cake: Transfer shaped ring (prepared through step 4) to large plate and wrap in two layers of plastic and then foil. (Unbaked ring can be frozen for up 1 month.) The night before baking, transfer frozen ring to refrigerator. The next day, unwrap ring and transfer it to baking sheet lined with parchment paper that has been greased with cooking spray. Proceed with step 5, letting dough rise in oven that has been heated to 200 degrees and then turned off. Brush with egg wash, sprinkle with almonds, bake (on middle rack), cool, and ice as directed.

Servings: 2 coffee cakes each serving 6
Time to Prepare: About 2 hours including rising and baking time


Submitted By: Betsy
Original Source: Cooks Illustrated

Comments:
The filling can be made the day before and refrigerated. Bring to room temperature before using.